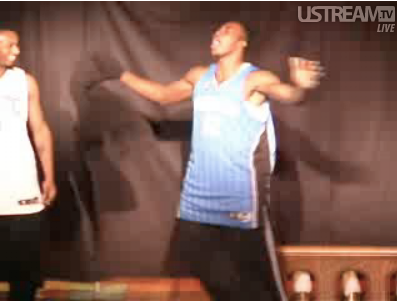 Dwight Howard exults after removing his warmup shirt to reveal the Orlando Magic's new, blue, pinstriped road uniform.
I have to say that I am not disappointed with the new look. Screengrabs from the ceremony, along with commentary, after the jump.
UPDATE: The Orlando Sentinel has a real nice shot of the new road uniform.
The top of this post shows Dwight immediately after he revealed the jersey. But the glare from the lights makes it hard to see. Here's the best shot of the uniform I was able to obtain: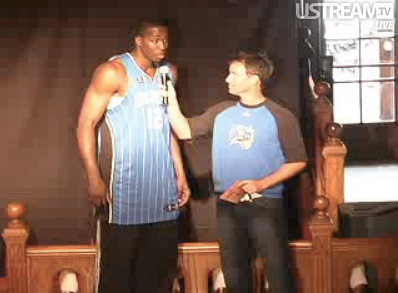 Dwight Howard talks with Orlando Magic emcee Scotty B. while modeling the Orlando Magic's new jersey.
The uniform is blue with silver pinstripes. The side panels are black with thick silver trim on either side. The word "ORLANDO" is across the chest in white; for a detailed look at the wordmark, click here. The team's circular 20th Anniversary logo sits on the right sleeve, with the NBA logo on the left sleeve.
The home uniform, seen below, is white with silver pinstripes, which did not photograph well. As with the road uniform, the home uniform as black side paneling; the trim on either side is blue instead of white. "MAGIC" is across the chest in blue text. The 20th Anniversary logo and NBA logos rest in the same position as they do on the road uniforms.
The Magic left the task of modeling the new home uniform to Buddy Dyer, the Mayor of Orlando.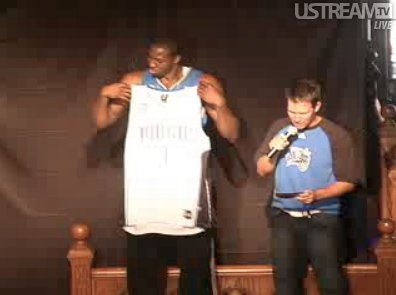 Dwight Howard holds up the Magic's home uniform before presenting it to Mayor Dyer.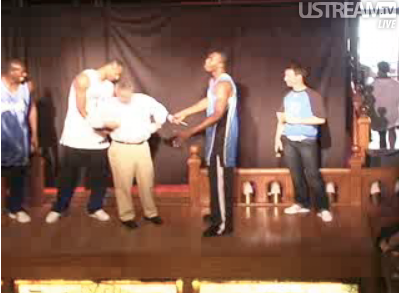 Rashard Lewis assists Mayor Dyer in putting on the jersey.
With the jersey on, Mayor Dyer congratulates Dwight Howard for helping Team U.S.A. win gold in the Olympics.
And, in a bit of a twist...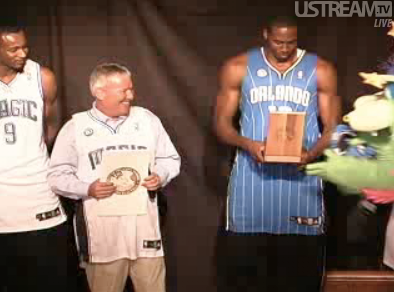 Mayor Dyer declares September 23rd, 2008 as Dwight Howard Day in Orlando. He presents Howard with the Key to the City to commemorate the occasion.