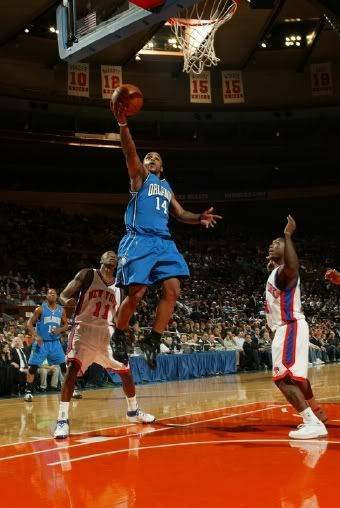 Jameer Nelson elevates for a layup over the matador defense of Jamal Crawford and Nate Robinson.
Photo by Ray Amati, NBAE/Getty Images
After a sluggish start, the Magic came out strong against the Knicks and pulled off the 112-102 victory, their fourth straight win, all on the road. Way to go, guys! Here's the boxscore.
The Magic were an atrocious 4-of-17 from downtown in the first half, but they stuck with their game plan and continued to shoot the long ball. Stan Van Gundy, in his post-game comments, said his philosophy is "do what we do," also mentioning the phrase "don't panic." I get the feeling that this team would have panicked last season, even with Grant Hill's veteran presence on the floor.
The player of the game, by far, was Jameer Nelson. While the rest of the team clanked jumpers early, Nelson attacked the porous Knicks defense for easy lay-ins. He scored or assisted on 22 of the Magic's first 26 points before being replaced by Carlos Arroyo with a little over a minue remaining in the first quarter. Nelson's early penetration forced the Knicks to try a zone defense in the second half, which Nelson torched with at least three alley-oops to Dwight Howard, who also grabbed 20 rebounds.
The defense was also key in this game. Keith Bogans frustrated Jamal Crawford and forced him to commit six turnovers, including three palming violations. And Adonal Foyle did exactly what he was brought in to do: bang under the boards and defend big guys down low. He and Howard played significant minutes together for the first time this season, and it proved to be effective in neutralizing Zach Randolph and Eddy Curry, the Knicks' power players. Randolph managed to score 23 points, but made just 9 of 21 shots. Based on that, I'd like to see the two big fellas play more often together.
It's worth noting that Rashard Lewis hit dagger-in-the-heart three-pointers for the third straight game. Following a timeout and facing a one-point deficit late in the third quarter, Sweet Lew hit a three from the right wing. A minute later, with the game tied, he nailed another three to give the Magic the lead, which they never relinquished. When we signed Rashard, we faced plenty of criticism, and not only for the size of his contract. He was labeled a guy who couldn't carry a team in the clutch. Where are his critics now, I wonder? Once is a surprise. Twice is a coincidence. Three times is a trend. Let's hope it's one that doesn't go out of style.
We may have gotten off to a slow start, but we got the win, which is what counts in the end. And we did so with four starters scoring 20-plus points. When that happens, we'll be a tough team to beat. See you tomorrow night in Orlando against the Suns. I'll be in attendance, and I'm excited.