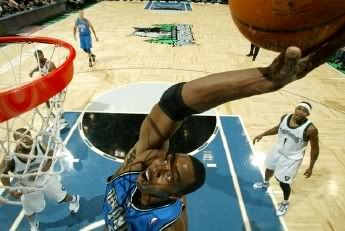 Dwight Howard dunks down 2 of his game-high 28 points in the Magic's win over the Timberwolves, 111-103.
Photo by David Sherman, the Associated Press
It wasn't easy, but we did it. Here's the boxscore.
The Magic held a sixteen-point lead in the fourth quarter, then watched the Timberwolves score fourteen straight points to make it interesting. Rashard Lewis put the game away for Orlando, hitting three three-pointers in a two-minute span to put the Magic back in control. Carlos Arroyo shined in the starting point guard role, posting 18 points, 6 assists, and just 1 turnover.
Despite the fact that we nearly lost a game after blowing a big lead to an inferior opponent, there are plenty of positives to take from this game:
Rashard Lewis, after going scoreless in the second half of Saturday's victory over Washington, went off for 16 second-half points tonight, including the aforementioned clutch three-pointers. The Magic gave the ball to him late and he delivered in a big way. Indeed, the Magic finally have a go-to guy.
Did I mention that Rashard shot 7-of-9 from downtown? That makes him 14-of-23 on the season, or a sizzling 60.9%.
Dwight Howard turned in his best game of the young season, going for 28 points and 16 rebounds. He also gave Al Jefferson fits, forcing Big Al to commit 5 fouls. He was also money at the foul line, going 12-of-16.
We were second-to-last in the league in turnovers last season. Tonight? Just 9 turnovers. Dwight Howard, last season's turnover leader, did not cough up the ball at all tonight.
What I worry about most is the fact that the starters had to play big minutes. We have to play again tomorrow night in Toronto, so I hope our guys aren't too gassed from tonight. We face a Raptor team tomorrow night that went 4-0 against us last season. Luckily for us, the Raptors also played tonight, and got hammered by 27 points in Milwaukee, so they will also face fatigue issues.
There's also the matter of Keith Bogans' plummet back down to Earth. KeBo was a miserable 2-of-7 tonight, but he atoned for it with 9 rebounds. However, if he keeps shooting at this awful rate, teams will feel free to double Dwight Howard off him and dare him to take the three-point shot. Since J.J. Redick is out indefinitely with back spasms, and Keyon Dooling figures to play most of his minutes as the backup point guard, we'll have a void to fill at the two-guard position.
A win is a win, but tonight's game raises questions about our mental toughness and about our depth in the backcourt. If we're able to beat the Raptors tomorrow, I'll be very impressed.