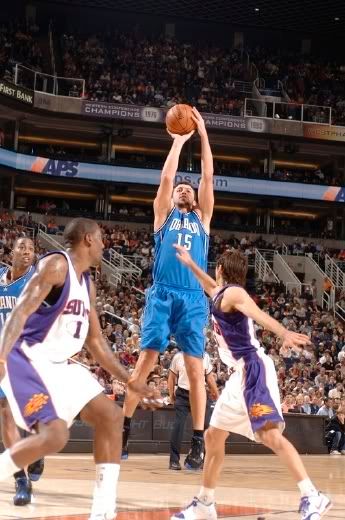 Hedo Turkoglu elevates to shoot against the Phoenix Suns. Despite his 25 points, the Magic fell by a final score of 110-106.
Photo by Barry Gossage, NBAE/Getty Images
The Magic fought back from a 15-point deficit to challenge the Phoenix Suns, but couldn't overcome poor shooting and turnovers and ultimately fell, 110-106. Here's the boxscore.
We may have lost, and it may have been ugly at times, but I want to emphasize how proud I am of our guys. Down by 15 against one of the league's best teams on the road, a lot of the players in this league would have put a stamp on the game and mailed it in. But not us and not tonight. In some ways, I'm happier with this loss than I am with Monday's win against Portland. We played better. Kind of.
I want to skip the first 47 minutes of this game and pose the following question to you: down by two points on the road with under a minute remaining, do you go for the win or for the tie? And if you do go for the win, who do you want shooting the three? Rashard Lewis has been in a terrible slump, Hedo Turkoglu has been hot, and J.J. Redick has been hot. In the end. Stan Van Gundy went with the win and designed a play for Lewis to hit a game-winning three-pointer, but the shot rattled out. Steve Nash hit two free throws to seal the final margin.
Me? I would have gone for the win because road teams tend to lose in overtime. I would have drawn up the play for Hedo, who hit a game-winner against Seattle last year and who had the hot hand tonight, with 25 points on 9-of-17 shooting. I would have used J.J. as a decoy.
Dwight Howard continued his dominant, MVP-like play with 30 points and 23 rebounds, but was just 4-of-10 from the foul line. He also added 8 turnovers, further hurting the Magic's cause.
The Suns played well tonight. Despite his 14 assists, Steve Nash didn't have a great game, but Raja Bell picked up the slack for the two-time MVP. All five Suns starters scored in double-figures, and Leandro Barbosa added 17 more points off the bench. When a team is allowing six players from its superior opponent to score in double-figures, it's in trouble.
Look at it this way: this game was the first of our losses that was ever really in doubt. If we hadn't come out so flat in the first quarter -- we were outscored in that period 31-16 -- we might have pulled this one out. Oh well. You can't win them all, and I'm not going to beat myself up too badly over this loss.