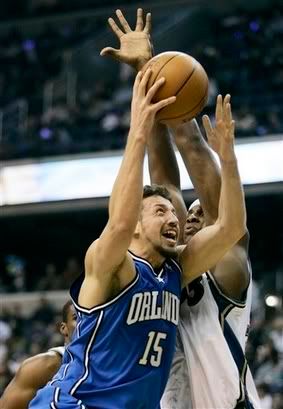 Hedo Turkoglu attacks the basket and the defense of Washington's Brendan Haywood.
Photo by Haraz N. Ghanbari the Associated Press
Please disregard what I wrote about Hedo Turkoglu earlier today. After tonight's virtuoso performance against Washington, there is no doubt as to who the starting small forward for this team should be. He was the entire reason we managed to beat Washington tonight. Here's the boxscore.
Tonight, Hedo ran the offense, which explains his 8 assists to Jameer Nelson's 2. Many of Turk's assists came off of penetration, kicking it out to open shooters or dumping it off to Dwight Howard for a dunk. And as you'll see from the shot chart below, when Turk wasn't passing off of penetration, he was scoring off of it. Just look at all the shot attempts in the paint.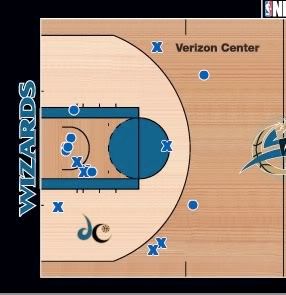 Hedo was taking the ball to the rack early and often against Washington. X's denote misses, O's denote makes.
I can't get overly excited about this victory, though. Yes, it came over a division rival, but there were a few bad spots. Dwight Howard had good numbers (17 points, 15 rebounds, 3 blocked shots) but he was actually outplayed by Washington's Brendan Haywood, who matched his career-high with 16 rebounds, 8 of them coming on the offensive glass. Haywood also swatted 5 shots, including an early Howard hook. If you were completely new to NBA basketball and were told that one of the starting centers tonight was an All-Star headed for superstardom, you would have guessed it was Haywood. He played out of his mind, and I applaud his effort.
For the second straight game, Rashard Lewis was a non-factor in the second half. How much of a non-factor was he? He scored no points in the second half -- he only attempted 4 shots -- and grabbed one rebound. Some of that can be attributed to Hedo having the hot hand, but much of it has to do with a lack of aggressiveness. He needs to work on that mentality for us to continue to be successful.
To be honest, Turk was really the only Magic player who impressed me. Dwight Howard has lost some of his confidence, and he's clearly frustrated by the lack of calls he's getting when hammered down low. He complained after nearly every call tonight, which is uncharacteristic of him. He, too, needs to get out of that funk.
It may look like Jameer Nelson had a bad game (17 points on just 4-of-14 shooting), but he back-to-back three-pointers in the fourth quarter to turn a 71-70 deficit into a 76-71 lead with 7 minutes to play. For that alone, I'm willing to forgive his crappy two-point shooting. How is it that he managed to hit only one of his eight two-point attempts? I don't understand.
I also think we lucked into playing a Washington team that just didn't have it offensively. Gilbert Arenas and Antawn Jamison, two-thirds of Washington's "Big Three," combined to shoot 11-of-36 for 30 points. I thought that Arenas, coming off last night's embarrassing loss to Boston, would come out attacking the basket, and I suppose he did. He hit his first three shots, but then disappeared for the rest of the game. Arenas, who was second in the NBA in total free-throw attempts last season, did not manage to get to the foul line once tonight. That's a rare occurrence.
Summarily, we didn't look impressive at all, but we got the win, and that's all that matters in the end.
Other notes:
Now that the Wizards are 0-3, Pradamaster, the webmaster for Bullets Forever, is thinking about changing his site's name to Fourth Quarter Collapse.
We did a great job handling the ball, turning the ball over just 13 times tonight. Through three games, we've committed just 35 turnovers, which shows that a team can play at a fast pace and still control the ball.
Pat Garrity was once again the first forward off the bench. He came into the game with 3:46 to go in the first period and Orlando leading 17-8; he left the game with 8:15 to go in the second quarter and Orlando trailing 24-29. Yes, the Magic were outscored by 14 points in the 7 minutes that Pat Garrity was on the floor. I doubt he'll get many minutes Tuesday night against the Timberwolves...
... especially since Carlos Arroyo didn't play tonight. After a horrid performance against Detroit, 'los sat at the end of the bench with J.J. Redick and James Augustine. He's going to have to work himself back into Stan's rotation.
Keith Bogans came down to earth. He entered the game with 14 points on 6-of-6 shooting total; he exits with 22 points total on 9-of-17 shooting. I guess I was wrong when I defended him over at Detroit Bad Boys earlier today.
We were outscored 25-14 in the third quarter despite Washington's 6 turnovers.
Your eyes do not deceive you: Trevor Ariza did indeed attempt a three-pointer. It didn't go in, but his first shot, a seventeen-footer from the left wing, did.
UPDATE: The AP recap of the game notes that Stan Van Gundy hasn't decided on a starting rotation:
"We have a problem finding a lineup that we can trot out at the start every single night," he said before Saturday's game. "I've got to get that cleaned up."
If Stan makes a change, it'll be because the bench has been so atrocious; that is, it won't be a move made out of displeasure with the starting five. Maybe Turk is bench-bound after all...? A puzzling development, to be sure.
UPDATE #2: Brian Schmitz has more information on Van Gundy's rotation:
The top eight [players] are forwards Lewis and Turkoglu; guards Jameer Nelson, Carlos Arroyo, Keith Bogans and Keyon Dooling; and centers Howard and Foyle.

That leaves SG J.J. Redick, PF Pat Garrity, SF Trevor Ariza and F James Augustine battling for playing time in Van Gundy's last spot.
He also mentions that Adonal Foyle may start Tuesday in Minnesota because the Timberwolves have strong post presences at the power positions: Theo Ratliff at center and Al Jefferson at power forward. My guess? Adonal starts at center and handles Jefferson, while Howard shifts to power forward and defends Ratliff. Rashard Lewis moves to his natural small-forward position, and Hedo Turkoglu moves to the two-guard. That would relegate Keith Bogans to the bench and give the Magic four starters 6'10" or taller; it would also leave the Magic with a lack of size on the bench. We'll see what happens.