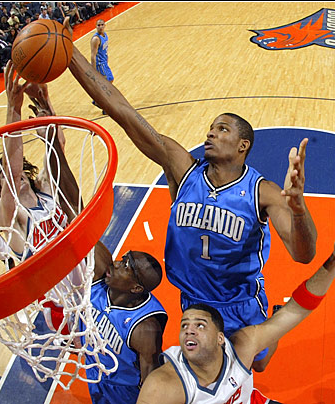 Because he can crash the boards, Trevor Ariza should be starting over Hedo Turkoglu... if he's healthy.
Photo by Kent Smith, Sports Illustrated
The comments section at Detroit Bad Boys' recap of last night's Pistons/Magic game is filled with discussion of the Magic, which is partly my fault. I wasn't trying to hijack their thread. Apologies to them.
Anyway, Magic fans aren't the only ones wondering where the heck Trevor Ariza went. JoeJoeJoe, a Pistons fan, is wondering too. He points out that with two 6'10" forwards who can't rebound and a 5'10" point guard, the Magic can't expect to be a good rebounding team. I responded by saying that Trevor will get more burn once he recovers fully from his foot injury, but now, I'm not so sure. Foot injury or not, shouldn't Trevor be the first forward off the bench? Pat Garrity, who has been the first backup forward called upon in each game this season, looked good during the preseason, his success has not carried over: 2 points (1-of-6 FG) and 4 rebounds in 37 minutes in two games. I have to believe that Trevor Ariza, given the same minutes, would have produced more, even on a bum wheel.
Let me take this question even further, though. Assume Trevor Ariza is fully healthy. Shouldn't he be starting in place of Hedo Turkoglu? Turk's line last night -- 17 points, 6-of-15 shooting, 5 rebounds -- wasn't terrible, but he played a lot worse than it would indicate. He forced up too many poor shots early in the clock and took us out of our offense. Trevor has been known to uncork some bad shots too, but when he first checked into the game, he immediately executed a nifty up-and-under spin move on the taller, stronger, and savvier Rasheed Wallace. Turk isn't going to do anything close to the basket unless it's on a fast break, and even then he prefers to run to the wing and set his feet for a three-ball; ditto for Garrity. And because those two players shy away from the basket, they aren't going to get many boards, something this team desperately needs.
After the first game, in which Trevor Ariza hardly played, Stan Van Gundy said he wanted to get as many shooters on the floor as possible. That's understandable, given the philosophy that good shooters will spread the defense and give Dwight Howard room to work inside. However, if Ariza starts in place of Turkoglu, the Magic will still have three good three-point shooters on the floor for Howard. Rebounding, at this early point in the season, has to supersede shooting.
Maybe I'm overreacting to one bad game that we played. After all, as Stan pointed out, we're only two games into the season. But Turk and Pat, veterans of seven and nine NBA seasons, aren't going to learn to rebound overnight. Trevor already knows how, and he should be starting over Hedo -- or at least be the first forward off the bench.
Poll
Should Trevor Ariza get the starting nod over Hedo Turkoglu?
This poll is closed
It's too early to tell.

(6 votes)
30 votes total
Vote Now