All Dwight Howard, all the time!
Dwight's 39-point, 16-rebound, 5- block performance earned him Indy Cornrows' "Line of the Night" award and NBA Glue's "Player of the Night" award.
Maurice Brooks had the following to say in his latest "Race to the MVP Mailbag" at NBA.com:

As the head coach of my son's second grade basketball team, I lower the baskets from 10 to eight feet before every practice in order to make shooting easier for the kids. From time to time, I also tighten the laces on my Air Jordans and hit the hardwood to demonstrate drills in a real life man-against-boys scenario.

I'm not saying that the Sonics are the equivalent of a JCC youth squad, but on Wednesday night, the Magic's Dwight Howard made it look that way.

gomagic33 at MagicMadness alerted us to these Dwight-centric articles: one from USA Today and one from Yahoo! Sports. The Yahoo! one reveals that Dwight's nickname for Carlos Arroyo is "Inspector Carlos." Can we please spread the word on that one? I want Inspector Gadget music to play at Amway Arena whenever he checks in. Really. Let's make this a campaign.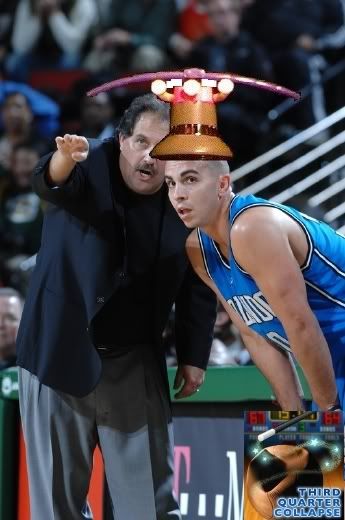 Inspector Carlos gets advice from Stan Van Gundy.
3QC Photo Illustration. Original Photo by Terrence Vaccaro, NBAE/Getty Images

Rashard Lewis footnote:
Tom Ziller notes that Rashard Lewis told reporters that he would have stayed in Seattle for $100 million. I don't believe that for a second -- would he really leave $18 million and the chance to play alongside Dwight Howard on the table? -- but it's the second disconcerting quote from Lewis in as many days; recall that he also said he's "jealous" that he doesn't get to play "with those [Seattle] guys" anymore. Wake up, Rashard. You play for a contending team in a warm-weather climate with arguably the game's best center drawing defenders away from you. The SuperSonics should be jealous of you, not the other way around.