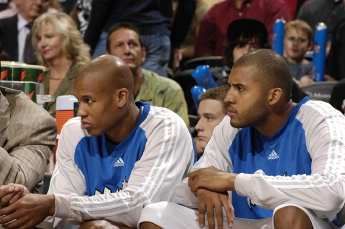 Maurice Evans and Brian Cook, the Magic's two newest players, watch their team play against the Charlotte Bobcats on Friday night. The Magic won, 105-92.
Photo by Fernando Medina, NBAE/Getty Images
The Magic overcame a shoddy shooting night from Rashard Lewis to beat the Charlotte Bobcats behind Dwight Howard's 34 points and 17 rebounds. Gerald Wallace, the Bobcats' leading scorer, left the game with an injury after playing just 12 minutes, forcing them to rely on Walter Herrmann and Matt Carroll for offense. Here's the boxscore.
Since the game wasn't televised, and since I elected not to attend, I don't have many observations to offer. It's encouraging that we beat a division rival by double-digits despite Lewis and Hedo Turkoglu combining to shoot a putrid 10-of-29 (.344) from the field.
Is there any doubt that Dwight Howard is the league's MVP so far in this young season? He's posted consecutive 30-point games for what may be the first time in his career. So far, no team has been able to contain him. He is as close to unguardable a post player there is in this league right now, and it must be scary for other teams to think that he's not yet 22 years old.
For those of you who are wondering, Brian Cook made his Orlando Magic debut, wearing jersey no. 34, scoring 3 points, grabbing 1 rebound, and blocking 1 shot in 8 minutes. Maurice Evans was active and wearing no. 1 (!), but received a DNP-CD. I was hoping he'd get some minutes, but Keyon Dooling's impressive double-digit scoring performance kept him on the bench.
In spite of he victory, Stan Van Gundy was not happy with his team's performance. He criticized them for "playing the scoreboard" instead of "playing every possession." The chance to win by 20 points slipped away in the fourth as the Magic let up on the gas, so to speak, allowing Bobcats rookies Jared Dudley and Jermareo Davidson to take control.
Big test for us tomorrow against the Heat. They've gotten off to a rocky start, to say the least, but they're still dangerous, especially on the second night of a back-to-back.