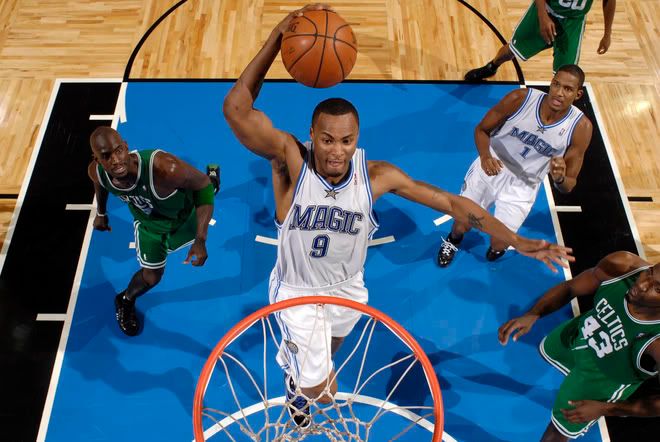 Rashard Lewis leaps high to throw down a tomahawk slam-dunk as eight-time NBA All-Defensive Team member Kevin Garnett watches helplessly.
Photo my Fernando Medina, NBAE/Getty Images
The Magic have sent Marcin Gortat to the Anaheim Arsenal of the NBA D-League. Gortat has yet to play in a regular-season game for the Magic, and he's not going to get any better by sitting on the bench in a suit. This experience should be good for him and for the Magic.
Tip of the hat to Bullets Forever for linking to this Magic-centric piece in Wizards Insider. Jameer Nelson likens himself to Tom Brady as the leader of a team with loads of offensive weapons. Hedo Turkoglu is Wes Welker, apparently. The article, entitled "The Magic Looks Legit," also includes the spectacular photo of Rashard Lewis blowing by Kevin Garnett for a dunk with which I started this entry.
The Celtics blog PerkIsABeast.com took exception to something Brendan Sonnone wrote at Believing in Magic, and responded in kind. The title of the article? "Scientists Prove That People Who Like the Orlando Magic are Dumber than Gnats." Here's an excerpt:

Behold the average Orlando Magic fan. The sloping, balding brow from wearing sun visors and nascar baseball hats, the protruding belly from lack of mobility and diet made up of wings from Hooters and Papa Johns pizza, the pasty skin from overexposure to air conditioning, and the general lack of ambition from living in the armpit of America.

As you can imagine, the comments on that entry are decidedly not PG-13.

In case you missed it when I linked it in last night's game recap, Dwight Howard was named the Eastern Conference Player of the Week. Congratulations, Dwight!
Don't forget to put Dwight, Jameer, Rashard, and Hedo on your NBA All-Star ballot.
Believe it or not, the Magic are in second place in John Hollinger's Power Rankings, which are updated daily.