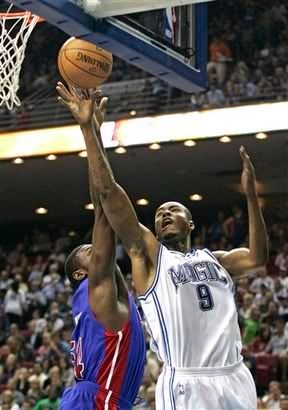 Rashard Lewis struggles to lay the ball in around Detroit's Jason Maxiell in Orlando's 116-92 loss. It was just that kind of night for the Magic.
Photo by Reinhold Matay, the Associated Press
The Magic thumped the Bucks to open the 2007/2008 NBA season. Tonight, they were on the receiving end of the beatdown, as the Pistons took control midway through the second quarter and never looked back en route to a 24-point victory. Here's the boxscore.
The Pistons hit an astonishing 58.9% of their shots. They shot 63.9% in the first half, and I kept telling myself they'd cool off in the second. Well, not so much. And after they built a nine-point lead just before halftime, the Magic became discombobulated and began to settle for jump-shots. Hedo Turkoglu was the Magic player most guilty of this offense.
But that wasn't the only depressing trend in this game. Our bench was missing in action, with only 17 points between its 7 players, with many of those points coming in garbage-time. To put that in perspective, Detroit's leading scorer was Flip Murray, who registered 19 points off the bench. When your second unit stinks, it's one thing. When one player from your opponent's second unit outscores yours, it's quite another. Awful.
To further illustrate my point, I've included this shot chart. The blue marks represent shot attempts by Orlando's seven bench players. The red marks represent shot attempts by Detroit's Flip Murray. X's denote misses, and O's denote makes.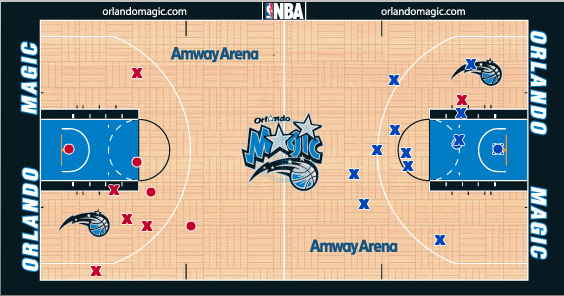 Kinda puts our suckiness into perspective, doesn't it?
Also disconcerting: the disappearance of Rashard Lewis. He actually played well, with 21 points on just 11 shot attempts, but never really attempted to take over the game once Detroit asserted itself. I'll take his 20+ points per game, but for the amount of money we're paying him, I'd like to see a bit more aggressiveness.
Finally, our lack of a quality big man besides Dwight Howard is killing us. The Magic had no answer for Jason Maxiell, the Detroit forward whom Magic play-by-play man David Steele accurately likened to a bowling ball. He got key rebounds, blocked shots, and gave the Magic fits. The Magic need another bruiser, some guy who can come in off the bench and bang around down low with the Jason Maxiells of this league and occasionally grab an offensive rebound. The Magic had none of those in the first half.  
All in all, a horrid game, and a waste of Keith Bogans, who scored 14 points on 4-of-4 shooting; and of Jameer Nelson, who dished 6 assists and committed only 1 turnover, and who also gave a tremendous effort every second he was on the floor. We take on the Wizards tomorrow night, who are right now being thoroughly creamed by the new-look Celtics.