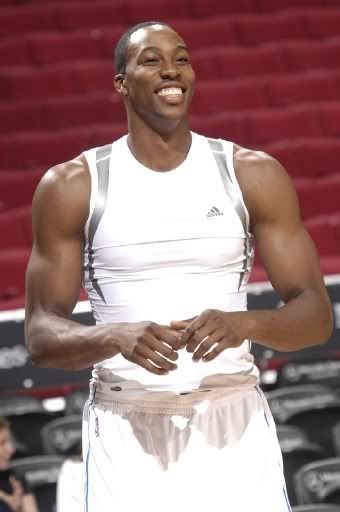 Dwight Howard has plenty of reasons to smile, including being named to John Hollinger's All-Breakout team.
Photo by Fernando Medina, NBAE/Getty Images

And now, the news...
John Hollinger, the statistics guru who created PER, has posted his "All-Breakout" team this season. It's an Insider story, but as of this writing it's available for free. Not surprisingly, Dwight Howard is on the list as the only player going from All-Star to Superstar. Take it away, John:

In preseason, he was a sight to behold. Not to mention on Opening Night he tallied 16 points, 12 rebounds and 7 blocks against the Bucks. He's more physically imposing than a year ago, if you can imagine that.

He goes on to say that Howard has a shot at making the All-Defense team this year. Wow. Hollinger also says that Trevor Ariza would make the list if he played more minutes. Nice to see that I'm not the only one who's high on him.

The Detroit Free Press' preview of tonight's game notes that Detroit has won eight of the last nine meetings with Orlando. As of this writing, however, 17 Ballhype users have picked the Magic to win, and 14 have picked Detroit to win.
Grant Hill made his Phoenix debut last night and totaled 13 points, 6 rebounds, and 5 assists. He shot 1-of-7 from three-point range. Why does that matter? He shot 12 three-pointers all of last season with the Magic and is a career 25% three-point shooter. Welcome to Phoenix, Grant!
Don't forget to check out the open thread for tonight's Orlando Magic/Detroit Pistons game.
UPDATE: Rip Hamilton is out for tonight's game.