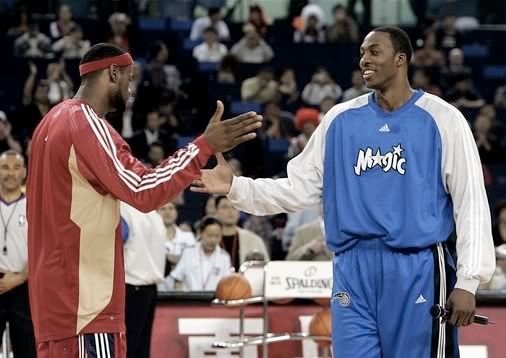 "If you were the owner of a franchise, would you rather have LeBron James or Dwight Howard?" Steve Weinman knows the answer, and it shouldn't surprise Magic fans.
Photo by  Eugene Hoshiko, the Associated Press
UPDATE: Steve Weinman of Taking it to the Rack outlines the reasons why he would choose Dwight Howard to build his team around. D-12 beat out LeBron James and Chris Paul. There's some spirited discussion going on in the comments. To me, Dwight and LeBron are the only two players who should be seriously considered, and you can't lose with either of them. I'd go with Dwight, just because he plays center, and good centers are hard to find.
Anyone could have told you over the summer that the Magic would have a difficult schedule this season. But next week might be the toughest stretch yet. After the Nets tonight, we face the Celtics at home on Sunday, then fly to New Orleans to take on the Hornets on Monday, then face the defending-champion Spurs in San Antonio on Wednesday. Those three teams are ranked 1-3 in John Hollinger's Power Rankings, which are derived from a mathematical formula. Playing three games in four nights is tough enough, but playing three games in four nights against arguably the best three teams in basketball? That's downright brutal.
More from Watson: Why Chris Webber would be a good fit with the Magic:

This isn't the first time the Magic have talked with Webber, but if he has any interest in picking up a few million extra dollars before calling it a career, this is probably the best offer he's going to get. Plus, he'd be able to put his passing skills in the post to good use, dishing the ball down low to Howard and finding Lewis either slashing or outside for a three.

Brian Schmitz points out that the Magic have exhibited mental toughness in each of their road wins this season. That's great and all, but we wouldn't have to exhibit mental toughness if we didn't blow leads to inferior teams.
NBA All-Star voting has started. Click here cast your vote on NBA.com. Don't forget to include Jameer, Hedo, Rashard, and Dwight on your East ballot!
The Sentinel's George Diaz wants to be able to watch the Magic on TV. Welcome to the club, George.