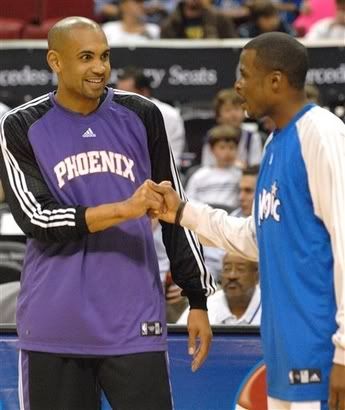 Keyon Dooling and Grant Hill talk before the Suns' 106-96 victory over the Magic. Dooling had the better game, but Hill had the last laugh.
Photo by Phelan M. Ebanhack, the Associated Press
Well, that was ugly.
The night got off to a bad start when a fan shouted "You suck!" at the woman singing the national anthem, and it only got worse for the Magic as they fell to Phoenix by a score of 106-96. The final margin is deceptively small; if memory serves, we were trailing by 20 with 6 minutes to go. Here's the boxscore.
Leandro Barbosa started for the Suns in place of Raja Bell, who suffered an ankle injury in Phoenix's victory over Miami last night. He proceeded to torch us for a career-high 39 points, including 8-of-13 from three-point range.
Dwight Howard had another great performance for us with 33 points and 18 rebounds, but he was just 7-of-16 from the free throw line. He looked to be the only Magic starter with his head in the game. Rashard Lewis was especially awful: our $118 million man had just 7 points on 3-of-14 shooting. On the plus side for him, he pulled down a season-high 9 rebounds. So there's that.
I want to know what happened to "We do what we do." Only 19 three-point attempts tonight? Really? It was like watching a Brian Hill-coached team.
Get possession.
Give the ball to Dwight on the block.
Stand around and hope he can do something with it.
Ugh. But that wasn't the only bad part. Our transition defense was also terrible, and Phoenix's fast-breaking offense exploited it. On two fast breaks in the first quarter, Barbosa got the ball in the open floor and strolled right into the lane for a layup. On every level of basketball, the first thing they teach you on defense is to STOP THE BALL ON  THE FAST BREAK. No Magic player cut off the lane, and the result was easy baskets for Phoenix.
And I'm not one to blame losses on officiating, but it was a bit questionable early in the game tonight. By my count, the Magic were whistled for five offensive fouls in the first half, each time by Ken Mauer, who has enough oil in his hair to fuel an aircraft carrier. Again, I'm not blaming the loss on officiating, but it was hard for us to get into a rhythm offensively.
Well, at least the bench played well. Trevor Ariza, Keyon Dooling, and Carlos Arroyo all scored in double-figures. Keyon also gave Steve Nash all he could handle defensively. A good showing from Keyon.
For those wondering, Grant Hill was booed lustily during pre-game introductions and every time he touched the ball subsequent to that. He shot just 6-of-18, so maybe it had an effect on him. Or maybe he just can't play anymore.
Yeah, I think I just went there.
UPDATE: Brian Schmitz and Tim Povtak report that the fan who shouted "You suck!" during the national anthem was directing his vitriol to Grant Hill, not the woman who sang. That doesn't excuse his comment, but it's important to make that distinction.