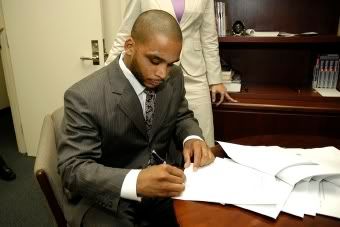 Jameer Nelson made signing a contract extension part of his pre-game routine last night.
Photo by Fernando Medina, NBAE/Getty Images
You know the drill.
Tim Povtak and Brian Schmitz seem to have found the details of Jameer Nelson's contract extension: five years, $35 million, and the option for Jameer to opt-out after the fourth season. Sounds fair to all parties involved.
I know we're only two nights into the young season, but Rashard Lewis is currently second in the league in PER. Manu FREAKING Ginobili is first.
BrewHoop posted a second reaction the Magic's victory over the Bucks last night. Frank, one of the two BrewHoop writers, expects Andrew Bogut to bounce back from his poor performance against the Bobcats, and he describes Mo Williams' and Desmond Mason's attempts to drive the lane on Dwight Howard as "comical." Good stuff.
Two former Magic players made their regular-season debuts with new teams last night. Darko Milicic started at center for the Grizzlies and posted 8 points and 7 rebounds in Memphis' loss to San Antonio.  Meanwhile, in Indy, Travis Diener scored 6 points, grabbed 2 rebounds, and dished 2 assists for the Pacers in their win over the Wizards.
You know, Yi Jianlian isn't such a bad player. His defense needs PLENTY of work -- he fouled out because he couldn't guard anybody down low -- but he made the most of his touches on offense. Too bad the game's highlights didn't show Keyon Dooling schooling him, though. Keyon got the ball on the left wing, and Yi came out to challenge him. Keyon dribbled right, gave a half-spin, then went left, laid the ball into the basket, and got fouled. It was kind of like this movie he put on Jameer during his Miami days:

Mike Bianchi is happy that the Magic played well, but he's pissed that so few people got to see it:

What a scene. What a show.

And what a shame you didn't get to see it.

How's this for sad irony: Millions of people in China could actually sit in front of their televisions and watch the Magic open the NBA season Wednesday night, but shockingly and shamefully most fans in Central Florida could not. That's right, Shanghai got the Magic game, but Sanford didn't.
More news as it happens.
UPDATE:
I'd like to thank my mother for pointing me in the direction of this Orlando Sentinel article, which states that Harris Rosen's bid to block construction of the Magic's new arena in downtown Orlando is faltering. Rosen needs 31,000 signatures to put the funding issue on the ballot, but has collected just 1,215 so far. I know where he can stick those, if you catch my meaning.
If you were wondering, like I was, why Trevor Ariza hardly played last night, Brian Schmitz has the answer, and it may not make you happy:

Maybe it's just because new Coach Stan Van Gundy wanted to win the first game, getting the Magic off on the right foot, and liked the way the game was going.

When a reporter asked him if Ariza had fallen behind, Van Gundy bristled and said, "We were trying to get more shooting on the floor. It's tough. It's situational. We're not real settled into a rotation if I have to play 11 guys."
[....]
Van Gundy had intimated before the season he would play eight, maybe nine players at the most in games.

Pat Garrity was getting more burn than Trevor Ariza. That seems wrong to me. Sure, Stan the Man wants more shooters on the floor, but shouldn't he have at least one slasher out there too? The spot-up shooters we have -- Garrity, Keith Bogans, J.J. Redick -- are fairly one-dimensional. Trevor can at least get to the basket and score off offensive rebounds. I hope last night wasn't a real indication of what Stan's rotation will be the rest of the season. If loving Trevor Ariza is wrong, I don't wanna be right.