The Magic opened their 2007-2008 preseason with a loss to the Atlanta Hawks despite a dominant performance from Dwight Howard, who finished with 30 points, 11 rebounds, and 4 blocked shots. Here's the AP recap of the game over at ESPN.
Hawks rookie Acie Law stole Carlos Arroyo's pass and took it the distance for a layup to break a 90-90 tie. Arroyo was fouled on the Magic's ensuing possession and had an opportunity to tie the game, but he made only one of the two free throws.
It's a bad loss, especially considering the fact that we lead by as many as 9 points, but I wouldn't read too much into it. At the end of the fourth quarter, with the game on the line, Stan Van Gundy trotted out a lineup of Carlos Arroyo, Torrell Martin, Trevor Ariza, James Augustine, and Marcin Gortat. Winning wasn't important; getting everyone a chance to play was, and in that regard, we succeeded.
It has to be said: Dwight Howard was outstanding tonight. 30 points is an explosion for him, but especially given the fact that 8 of them came on face-up jump shots, the sort that made his mentor, Patrick Ewing, a force to be reckoned with in his hall-of-fame career. I have a feeling we're going to see a lot more of these shots this season: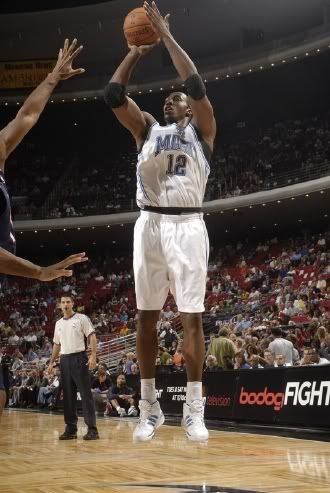 The Magic's other star, newcomer Rashard Lewis, had a miserable Orlando debut. He scored just 8 points on 3-of-10 shooting and left the game early in the third quarter due to leg cramps. He did not return. The Magic are counting their lucky stars that it is not a more severe ankle or knee injury, which would put the $118 million Lewis out of the lineup indefinitely.
The much-ballyhooed insertion of Keith Bogans as the Magic's starting shooting guard didn't yield much. Bogans was essentially invisible, failing to score despite 13 minutes of playing time. J.J. Redick, his backup, contributed 10 points in 31 minutes. It's possible that he'll start when the Magic take on the Charlotte Bobcats on Wednesday as coach Van Gundy experiments with different lineups.
The only other Magic player in double-figures was Adonal Foyle, who played well coming off the bench. He registered 11 points and 6 rebounds in just 16 minutes of playing time, and at one point dove to the floor to fight for a loose ball. He gained possession and the Magic got two points out of it as Jameer Nelson knocked down a jumper. He was open under the basket several times, which is why three of his four field goals came off a teammate's assist.
All in all, a solid effort for the Magic. Were this a regular-season game, we probably would have eked-out a victory.
The Magic will look to even their record as they take on the Charlotte Bobcats on Wednesday night.
Poll
How concerned are you that the Magic lost their first preseason game with Stan Van Gundy and Rashard Lewis?
This poll is closed
Mildly concerned

(1 vote)
16 votes total
Vote Now