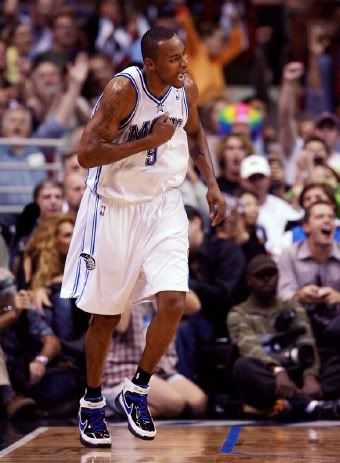 Rashard Lewis celebrates after hitting one of his three third-quarter three-pointers in Orlando's 102-83 victory over Milwaukee.
Photo by Doug Benc, Getty Images
Is it too late to change the name of this website?
The Magic and Bucks played each other evenly in the first half, with the good guys holding a two-point advantage at the break. After that, it was lights-out. The Magic smoked the Bucks for 35 points in the third quarter, and held them to just 16 on the other end. We were 7-of-8 from three-point range in the decisive period and cruised to a 102-83 victory. Here's the boxscore.
Everything seemed to go right for us. We hit over 50% of our threes and over 70% of our free throws. We forced 14 Milwaukee turnovers and blocked 10 of their shots, with Dwight Howard matching his career-high with 7. Rashard Lewis and Hedo Turkoglu combined for 50 points on 17-of-28 shooting. It was a beautiful, beautiful thing. And after letting Michael Redd get off to a hot start with twelve points in the first quarter, we locked him down for the rest of the game. He finished with 25 points. Bobby Simmons was the only other Buck with a pulse this evening, scoring 18 points in only 24 minutes.
My biggest concern after this game is defensive rebounding, which I foolishly said would be a strength for this team coming into the season. We allowed the Bucks to grab 43% of their own misses, which we simply can't afford to do against better teams. I've joked with friends about trading Hedo Turkoglu for help on the glass, but after seeing how well he integrated with Rashard Lewis, how can we afford to lose him? The rebounding situation is indeed something to monitor as the season progresses.
Also worth mentioning: our bench didn't do jack for us tonight. 20 points on 7-of-24 shooting. Absolutely awful. Adonal Foyle even managed to airball a hook-shot three feet away from the basket. Incredible. Let's hope the second unit is able to bring their A-game on Friday night.
Something else of note: Trevor Ariza didn't get into the game until the final minutes of the first half. He ended up not scoring in 7:32 of action. This news concerns me. Perhaps Stan Van Gundy doesn't think Trevor fits into his offense, which I think is a shame. Trevor might be my favorite player, and I don't want him to have to languish at the end of the bench all season.
Overall, though, it was an encouraging performance by the Magic. The next game is Friday evening against the Detroit Pistons, who beat us 8 times last year. If we can pull out a win there, or at least keep it close, the league will officially be on notice.
UPDATE: John Denton has his recap up. He notes that Rashard Lewis' Magic debut was very reminiscent of Tracy McGrady's. In his first game for Orlando, T-Mac scored 32 points on 11-of-25 shooting. Let's just hope that the Rashard Lewis era ends differently than the Tracy McGrady one did.
Additionally, sister-site BrewHoop has its recap up. Did you know that Hedo Turkoglu averaged 21 points per game against Milwaukee last season? Yeah, neither did the Bucks:
No matter who matched up against the versatile Turk there was a hesitancy to commit to guarding his outside shot or the drive to the basket.  What resulted was an awkward in-between defense that didn't really guard either.
Will Turk continue to create mismatches and befuddle defenses? One can only hope.