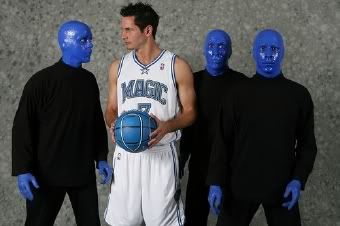 J.J. Redick is not intimidated by the Blue Man Group in this photo from the Orlando Sentinel's season-preview section.
Photo by Julie Fletcher, the Orlando Sentinel
The Magic's season starts tomorrow and the news is flying in. Here we go:
The battle between FSN, the network which is televising 35 Magic games this season, and Bright House Networks, the dominant Orlando cable company which doesn't offer FSN on its expanded basic cable package, is not expected to end anytime soon, reports Tim Povtak of the Orlando Sentinel. 14 of the Magic's first 18 games will be on FSN, meaning the beginning of one of the most anticipated Magic seasons in recent memory will be unavailable to most Orlando cable customers. Here's a snippet from Povtak's article:

"Unfortunately, we do not expect to have a deal with Bright House any time soon," Cathy Weeden, general manager of FSN/Florida, said Monday night. "We've made multiple proposals and haven't received any response that allows FSN to be offered on expanded basic. That's where it belongs."

The sides are scheduled to talk again today, but neither has shown much willingness to budge on the issue of placement. Earlier in negotiations, Bright House wanted FSN for its even-more-expensive sports-tier package.

For his part, Matt from Orlando Magic Blog canceled all of his Bright House services and made sure they knew why. Good for him. I would do the same if it were possible for me to do so.

The Sentinel has its annual season preview up, complete with video,  photos side-by-side with player bios, and wallpaper. The theme is "True Blue" and the photos feature Magic players messing around with Blue Man Group. Cool.
Remember that Whit Watson column I linked to yesterday in which Watson wondered if sports teams still use so-called "bulletin board material"? I wrote that I hope the Magic did. Well, it turns out that they do. After Stan Van Gundy was hired, Mike Bianchi wrote a column in which he stated the Magic would not make the playoffs because the rest of the East looks better on paper; sadly, that column is no longer available for free online. Today, Bianchi writes that Magic coach Stan Van Gundy photocopied the article, then sent copies to each of his players. "Games are not won on paper," Stan said. NICE!
Marc Stein of ESPN updated his NBA Power Rankings yesterday. The Magic moved from 13th to 11th overall, and are the 5th-highest rated team in the Eastern Conference. Here's what Stein wrote about Orlando:

No one should get carried away with the Magic's 6-1 record in the preseason, especially given Rashard's ankle trouble. But I have a nagging feeling 'Shard and SVG will help Dwight win their division in Year 1.

If you can't wait until the Magic play tomorrow night to see NBA action, you're in luck. The first three games of the 2007/2008 NBA season will take place tonight: the Trail Blazers visit the Spurs (TNT, 8:00 EST), the Rockets visit the Lakers (TNT, 10:30 EST), and Warriors visit the Jazz (No national TV).
UPDATE: League sources tell Brian Schmitz that the Magic are more interested in filling their big-man void with Michael Doleac than with Juwan Howard. Doleac would be a better fit in Orlando, they say, because he is a better outside shooter, has played for Stan Van Gundy before, and won't be looking for as big a role as Howard will be.
UPDATE #2: Henry Abbott of TrueHoop linked to this study in his daily bullets today. It shows a positive correlation between preseason records and regular-season records. Our 6-1 preseason may not have been meaningless after all.
UPDATE #3: John Denton reports that Jameer Nelson has taken out an insurance policy to protect his family's future should he suffer a severe injury. The deadline for Nelson to sign his contract extension is tomorrow, but negotiations can continue until 11:59 PM, meaning how he plays tomorrow night may affect the terms of the extension. You've certainly heard about a player being in a "contract year" before, but have you ever heard of a player being in a "contract game"?
UPDATE #4: Abbott has just learned that Juwan Howard will sign with the Dallas Mavericks. The Magic will have to look elsewhere for frontcourt help.
I'm sure more news will come down the pike later today, especially with the deadline for Jameer Nelson's contract extension coming up. This post will be updated if anything new comes up. Additionally, I'm working on a Carlos Arroyo/Jameer Nelson piece that should be up later today, so stay tuned for that.