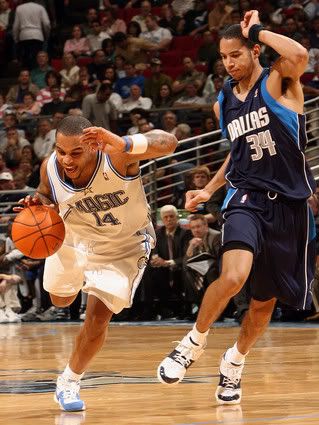 Jameer Nelson drives on Devin Harris, the player whose 5-year, $42 million extension set Nelson's asking price sky-high.
Photo by Gary W. Green, the Orlando Sentinel
John Denton of Florida Today reports that the Magic have formally offered Jameer Nelson a contract extension for five years and $30 million.
Nelson had been seeking $45 million over five seasons, similar to the $42 million/5 year extension the Dallas Mavericks gave their young point guard, Devin Harris, earlier this summer. It appears as though the Magic are hoping that the opportunity to play alongside Dwight Howard and Rashard Lewis for the next five seasons will convince Nelson to take less money.
If Nelson and the Magic don't come to an agreement by October 31st, Nelson will be a restricted free agent next summer. He sounds ready to depart if the Magic don't pay him fairly. Here's what he told Denton:
"I'm prepared to leave. I'm prepared to go outside of my comfort zone," he said boldly. "I can name all of the teams who have (salary cap) money. Philly and Atlanta and others, they have money to spend.

"I'm a starting point guard. I need starting point guard money."
An average annual salary of $6 million this deal offers seems fair to me, seeing as how Nelson regressed last year and failed to prove himself to be the long-term answer for the Magic. What's puzzling is this contract's length. It seems to contradict the financial portion of the offer. He's getting average money, but an above-average length. Wouldn't it be more reasonable for the Magic to offer him, say, $21 million over three seasons? It'd give Jameer good money and the chance to prove himself, while not binding the team to keep him for five more seasons.
My gut feeling is that Nelson will reject the offer, the Magic won't make a better one, and he'll play out this season with a huge chip on his shoulder. The Magic run the risk of Nelson posting career-best numbers this season, essentially playing himself way out of their price range. All it would take would be some team with loads of cap room to make Nelson a big offer -- say 5 years and $52 million -- that the Magic wouldn't be able to match without having to dump other salaries.
Further complicating the issue is Trevor Ariza, the budding star small forward who is expected to opt out of his contract next summer. Ariza is already a great defender and rebounder and is a consistent jump-shot away from gaining more recognition. If the Magic can't reach an agreement with Nelson, both he and Ariza will be free agents next summer, and the Magic may be faced with the difficult task of having to choose between the two of them.
UPDATE: I changed the picture in the story to something a bit more appropriate.
UPDATE #2: Matt Watson from Fanhouse offers his take on the situation:
Is Nelson a better player [than Devin Harris]? I haven't seen any reason to think as much. Yes, he means more to his team, but that's because the Mavericks are a stacked title contender, whereas Orlando is simply fighting for a playoff spot. Does anyone really think the Mavs would be a better team with Nelson bringing the ball up court? [....] I'm not sure [Nelson]'s even worth $6 million a year that he's scoffing at. That's a lot of money to pay a backup point guard, which is what Nelson will be by the time the Magic get any good.
Yikes. Watson seems to think that Nelson won't improve at all, but I disagree. Jameer is going to make big strides under Stan Van Gundy's guidance. The Magic would be wise to lock him up for a reasonable amount now before his value increases next summer. I reiterate that a three-year, $21 million deal works for both parties. Nelson gets an average salary closer to what he's looking for, and the Magic are only stuck with him for three years. In other words, if he doesn't pan out, he won't be trapped here any longer than he has to be.
Poll
Is the Magic's five year, $30 million offer to Jameer Nelson fair?
This poll is closed
Yes. In fact, it's generous.

(11 votes)

Yes, it's fair.

(10 votes)

No, it isn't fair; Nelson deserves better.

(5 votes)
26 votes total
Vote Now