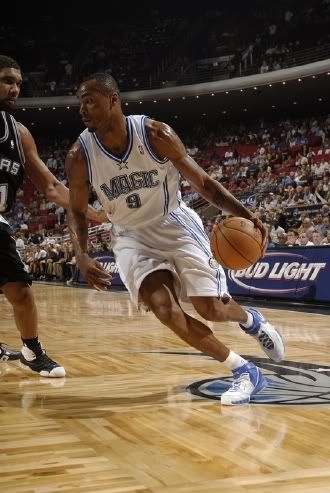 Rashard Lewis drives to the basket in the Magic's final preseason game, a victory over the San Antonio Spurs.
Photo by Fernando Medina, NBAE/Getty Images
The Magic finished off their preseason with a record of 5-1 -- 6-1 if you count the victory over the Chinese National Team -- by defeating the San Antonio Spurs, 99-90. Yahoo has the box score.
I really don't want to read too much into this win. The Spurs rested their stars down the stretch of a tight game, which they would not have done had it actually mattered. Still, we beat the world champions! ... kind of.
The biggest story in this game has to be Rashard Lewis' real debut for the Magic. Sure, he played in two prior previous games, but this was the first time he played injury-free. He posted 16 points and 5 rebounds in 31 minutes. Not bad... until you consider that he shot 6-of-15. 'Shard needs to average more that 1 point per shot, which will happen if he gets to the foul line more often.
The Magic had a balanced attack. Carlos Arroyo, playing against a roster featuring several international players, scored 16 points in 24 minutes. Keith Bogans added 11 on 3-of-4 from downtown, solidifying his spot as the team's opening-night starting shooting guard. And Adonal Foyle played very well, adding 8 points, 7 rebounds, and 4 blocks. He should fill in for Tony Battie and Darko Milicic nicely.
My question: where the heck were Marcin Gortat and Kevin Kruger? And James Augustine, for that matter? I hoped that they would get major minutes tonight, but they didn't play at all. We should be hearing in a few days who nailed down the final roster spot. It's either Augustine or Bo Outlaw, and my money is on Auggie.
Again, it's hard to put too much significance on winning this game and finishing the preseason with a good record. But our three-point shooting has been sound -- including 9-of-15 tonight -- and that's really the key to our offense now. But what do you think? Is this preseason really important? Let's discuss it in the comments.
Poll
How encouraging is the Magic's 5-1 preseason record?
This poll is closed
Neither encouraging nor discouraging

(0 votes)
0 votes total
Vote Now