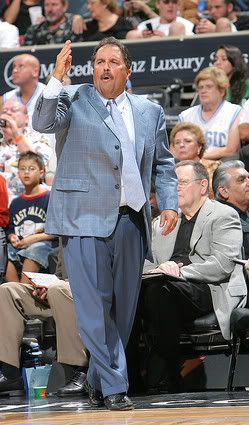 Tom Ziller thinks Stan Van Gundy will win Coach of the Year after the Magic win the Southeast Division.
Photo by Jacob Langston, the Orlando Sentinel.
I've linked to NBA Fanhouse's "Valley of the Most Likely" posts before, and I'm about to do it again. Tom Ziller, my colleague from Sactown Royalty, writes that Stan the Man will surprise us by winning Coach of the Year this year en route to guiding the Magic to a division title. Here's an excerpt:
If playmaking was Orlando's biggest weakness last year, coaching had to be #2. To say Brian Hill is uncreative is a misnomer; Brian Hill just didn't give a crap about fooling anyone anytime with anything. Stan Van Gundy will never be confused with Pete Newell, but he's obviously got some offensive stones. (See: the 2003-04 Miami Heat.) And his defense? Orlando will be a top five defense this year; there's little question, unless Dwight Howard decides to play Frogger and sprains his elbow giving a big rig a forearm shiver.

SVG is oft referenced as the most prepared coach in the league; his pregame dry-erase boards are said to be something straight out of A Beautiful Mind. Magic fans might feel they let one get away when Billy Donovan got spooked and returned to Gainesville. No, you didn't let one get away. SVG was by far the biggest sure thing on the coach market this summer (with a nod to Rick Adelman); Orlando, given its personnel, could not have done better.
The sentiment that the Magic are better off without Donovan isn't a new one, but Coach of the Year? That's new. And I like it.
And your fluff piece of the day: Pat Garrity is suddenly relevant. I think if Pat averages in double-figure scoring, Stan wins COY by default. Really.