I've been relishing the China Games because it means the Magic are in the national spotlight, even if it's only for three meaningless games in the middle of October. But they're soaking it up and attracting some attention, especially from the guys at NBA Fanhouse.
The guys there are running a series called "Valley of the Most Likely" which focuses on exactly what it sounds like: stories that should come true.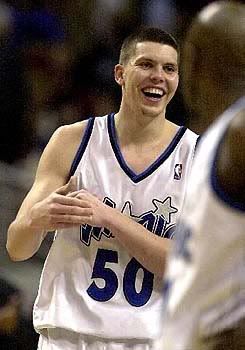 Tom Ziller thinks the Grizzlies will trade Mike Miller, and that Orlando will be in the running to re-acquire the former Rookie-of-the-Year winner.
Photo by Julie Fletcher, the Orlando Sentinel
My SBN colleague Tom Ziller believes that the Grizzlies will trade Mike Miller, and he lists Orlando as a "no-brainer" destination for him:
Orlando has some depth in the back court, but nothing like Miller. Stan Van Gundy will have that team playing defense... it's a matter of getting some points past Shard and Howard.
It's hard to disagree with TZ's assessment. The Magic could use a third scorer, and Mike Miller is nothing if not a scorer. I wouldn't mind seeing him return to Orlando... provided that we didn't have to give up too much to get him. Let me explain.
The Grizzlies are a young team building for the future, so unless they plan on making a splash in free-agency next summer, they have no need for the expiring contracts of Pat Garrity and Keyon Dooling, even though the salaries work. A deal involving Hedo Turkoglu and James Augustine also works financially, but makes little sense for Memphis; why trade one veteran shooter for another who happens to be one year older?
In making any deal for Miller, the Magic would have to be very careful. Jameer Nelson will be a restricted free-agent next summer if he doesn't agree to a contract extension by October 31st, and Trevor Ariza will likely opt-out of his deal to test his value on the open market. Dumping an expiring contract -- Garrity, Dooling, or Carlos Arroyo -- in a trade limits our flexibility when it comes to retaining those two vital parts of our system.
Basically, I'd trade for Miller because he can help us win now, which should be the goal of every team. However, I'd be leery of trading for him because there's no guarantee we'd be able to also keep Jameer and Trevor.
The other Valley of the Most Likely piece concerning the Magic comes from Bethlehem Shoals of FreeDarko, who writes that Rashard Lewis will have a surprisingly good season in his first year here. Says Shoals:
You'd think that, going into 2007-08, Lewis would be a surefire disappointment. After all, even if he does blossom into a top-tier scorer, a versatile complement to Dwight Howard, he'll never be worth all that money. [. . . .]

However, I think that Shard has been through the fire of public opinion, and now has nowhere to go but up. We've spent so much time this summer lamenting Shard's deal that we've lost sight of one central fact: Lewis is a very good player, and fits perfectly into what Orlando's building. They don't need him to use his size, or decide what position he plays. Mostly, they just need someone to shoot the darn ball.
Amen to that. I also think Rashard is poised for a good year... if he can stay healthy; cramps knocked him out of the first preseason game, and an ankle sprain took him out of the next one. We haven't seen him on the court since. The soonest we'll find out how well he fits into the system is next Thursday in the preseason finale against San Antonio, but even then I have a feeling that Stan Van Gundy will rest the starters... which means we'll probably have to wait until Halloween in our season-opener against Milwaukee. Ominous.
If you're in the mood to anger yourself, I have a link for you after the jump.
Feeling masochistic? Read this column by Andrew Pema at RealGM, in which the author states he hopes we lose big because he doesn't want us to be "rewarded for [our] highly-questionable decision making." It's this sort of sour-grapes attitude that the Magic, and we, their fans, are going to have to fight all season. I don't think people really want us to fail; rather, they're disappointed they weren't able to land the top free-agent available, so they choose to mock us for the money we gave 'Shard. Yes, we vastly overpaid him. No, that doesn't mean he's automatically a crappy player and you should hate our guts. As Matt and Ian pointed out at Detroit Bad Boys last April, the Magic aren't an easy team to dislike.
Let's hope Dwight, 'Shard, and company can prove the haters wrong.