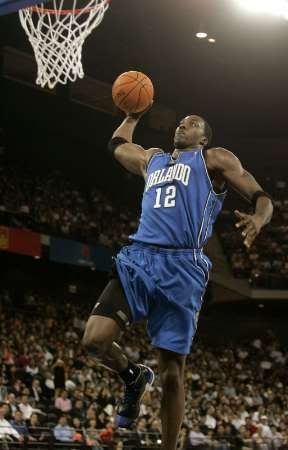 Just your typical Dwight Howard breakaway dunk, good for 2 of his 12 points in the game.
Photo by Bobby Yip, Reuters
As expected, the Magic defeated team China by a final score of 116-92. Here's the box score.
Stories in this game:
Hedo Turkoglu left the game in the third quarter after suffering a mild ankle sprain, reports Brian Schmitz. This injury leaves the Magic with a total of 0 healthy small forwards. Here's hoping that Rashard Lewis is healthy enough to play tomorrow against Cleveland. UPDATE: Schmitz reports that Rashard Lewis is "definitely out" for the next game against the Cavs.
After playing 40 minutes in yesterday's win over Cleveland, Jameer Nelson played only the first 9 of this game before giving way to Carlos Arroyo...
... who lit up the joint for 25 points, 9 assists, and 4 steals. I don't know what it is with Carlos. Put him against NBA teams, and he's average. Put him against teams made up of players from other countries and suddenly he's Pete (Pedro?) Maravich.
James Augustine played his best game of the preseason, scoring 14 points and pulling down 7 boards.
Marcin Gortat and Kevin Kruger got major playing time. Gortat scored 8 points before out with in just 16 minutes of playing time. Kruger scored 6 points, pulled down 3 boards, and dished one assist in 22 minutes. I can't be sure because I wasn't able to watch the game, but I'm pretty sure most of his minutes came at the two.
J.J. Redick was awful. Again. For the road trip, J.J. has scored 9 points on 3-of-15 shooting, including 1-of-7 from downtown. He's going to find himself firmly planted on the bench if he keeps this up. The starting two-guard spot is now Keith Bogans' to lose.
The Magic finish off NBA China Games 2007 with another game against the Cavaliers on Saturday morning. Tip-off is 12:30 AM, and you can watch the game on ESPN 2.