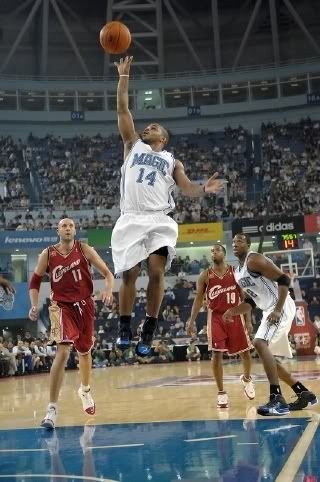 Aggressive all night, Jameer Nelson floats a teardrop over the Cleveland Cavaliers' defense
Photo by Andrew D. Bernstein, NBAE/Getty Images
Well, it wasn't pretty, and it doesn't count in the standings, but we should still be happy that the Magic fought back after trailing early to defeat the Cavaliers by a final score of 90-86. Here's the box score.
I never thought I'd say this about the Magic, but they won the game at the free-throw line. After shooting just 70% as a team from the stripe last season -- 28th out of 30 teams -- the Magic shot 35-of-40 tonight, good for 87.5%. In contrast, Cleveland, which was 29th in foul shooting last season, shot a miserable 18-of-26 this morning. The plus-14 in attempts and plus-17 in makes was the real difference-maker here. Oh, and Dwight Howard was 13-of-16 from the free throw line.
That's not a misprint. Dwight Howard hit 81% of his free throws tonight. 81%. Dwight Howard. Wow.
Let me put it this way: it's encouraging that the Magic beat a 50-win team despite shooting 38.5% from the field and 27.8% from three-point range.
But even more encouraging was the play from Jameer Nelson. Playing for a contract extension, Jameer had his best game of the young preseason, scoring 24 points -- on just 10 field goal attempts, no less -- while dishing 6 assists. He would have had more of those if the shooters around him were more keyed-in. His penetration created wide-open looks for our wing players, and Keith Bogans in particular. When he wasn't dishing off penetration, he was laying the ball in or drawing contact to get to the foul line. Case in point: All 8 of Jameer's points in the decisive fourth quarter came off free throws. I'm sorry for ever doubting him. He works well in Stan Van Gundy's system, and I hope he sticks around.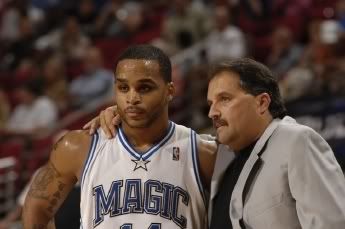 Jameer Nelson has improved under Stan Van Gundy's guidance.
Photo by Fernando Medina, NBAE/Getty Images
As for the Cavaliers, they actually looked pretty good. Shannon Brown had 12 points on 3-of-11 shooting, which doesn't look so great, but you have to watch him to appreciate his play. He has a quick first step and a quick release on his shot. He'll make a pretty good successor to Larry Hughes once Hughes' ridiculous contract comes off the books. It'll be interesting to see how well this team plays once (if?) it gets free-agent holdouts Sasha Pavlovic and Anderson Varejao back.
I enjoyed ESPN2's broadcast. Mark Jones has a great voice and does a good job calling the game without talking too much. And in Hubie Brown, you've got one of the most knowledgeable basketball minds in our game, and you know you're going to get solid commentary from him night in and night out... even if he refers to Drew Gooden, whom he coached in Memphis a few years ago, as "Dwight Gooden" and Sasha Pavlovic as simply "Petrovic."
Okay, it may only be a preseason game against a team missing two of its top players, and against a team that sat its starters the entire fourth quarter, but it's hard not to be excited. Jameer Nelson is finally playing to his potential, Dwight Howard is dropping 31 points and 14 rebounds against a 7'3" non-stiff center, and the new offensive system is clicking.
Are you starting to believe in Magic?
Poll
Who was the star of the game tonight?
This poll is closed
Dwight Howard (31 points, 14 rebounds)

(8 votes)

Jameer Nelson (24 points, 6 assists)

(3 votes)

Stan Van Gundy (Magic win despite trailing by 8 heading into the fourth quarter)

(3 votes)
14 votes total
Vote Now