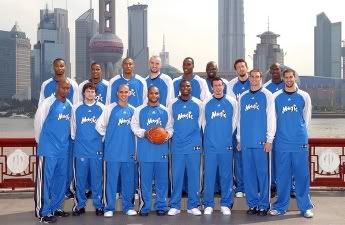 The Magic pose for a team photo in Shanghai.
Photo by Andrew D. Bernstein, NBAE/Getty Images
The Orlando Magic tip-off the first of three games in China this week tomorrow morning at 8 AM against the Cleveland Cavaliers. Aren't you excited?! I know I am, and so is this guy: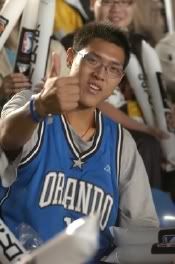 A man in Shanghai shows his Magic pride.
Photo by Randy Belice, NBAE/Getty Images
The three-game exhibition is part of NBA China Games 2007, which aims to spread basketball throughout the world. The Magic will take on the Cavaliers tomorrow morning and late Friday evening, with a game against the Chinese National Team sandwiched in the middle on Thursday.
Let this post serve as an open thread for general commentary on the event itself and for the first game, which will be aired at 8:00 AM on ESPN 2. Ordinarily, I wouldn't wake up before 9:00 on a Wednesday, but the Magic are on, so I guess I can make an exception. Besides, opportunities like this one don't come often; the Magic are nationally televised just once during the regular season.
My prediction? The Magic split the games with the Cavaliers and beat the Chinese team by at least 7 points.
More on the China Games:
Be sure to get plenty of sleep for the game tomorrow morning. Or, if you're otherwise engaged, set the DVR. It may only be a preseason game, but given its location and purpose, the starters will play more minutes than they usually would. Plus, Dwight says he wants to dunk on LeBron James, or at least break the rim. Now that would be something to see.
UPDATE - John Denton has the Magic's starting lineup for this morning's game: Jameer Nelson, J.J. Redick, Keith Bogans, Hedo Turkoglu, and Dwight Howard. Denton predicts that this lineup will also start opening night, with Rashard Lewis getting the nod ahead of Keith Bogans.
Meanwhile, I have no idea who's starting for Cleveland. My best guess is Daniel Gibson, Larry Hughes, LeBron James, Drew Gooden, and Zydrunas Ilgauskas. We'll see how that holds up.