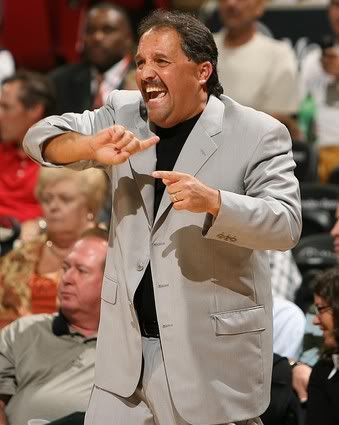 Damn, Stan sure knows how to dress coach, doesn't he?
Photo by Steven M. Dowell, the Orlando Sentinel.
The Magic cruised to a big victory over the Heat in a game in which they never trailed. All five starters for the Magic -- Carlos Arroyo, Keith Bogans, Hedo Turkoglu, Pat Garrity (!), and Dwight Howard -- scored in double-figures. J.J. Redick lead all scorers with 19 points off Orlando's bench.
I'm pleased with the victory, but I still can't get too worked up over whooping up on a team playing without four of its five starters. Losing to what amounted to Udonis Haslem and some D-League hopefuls would have been a colossal embarrassment. However, we should be pleased with our hot shooting, especially from three-point range. As Brian Schmitz mentioned in this morning's Sentinel recap, the Magic are shooting 43.9% from that distance so far this preseason. Hopefully that momentum will carry over into the regular season, as the Magic will want to spread the floor to give Dwight Howard more room to operate in the low post.
Equally important to the Magic's success has been their point guard play. Jameer Nelson and Carlos Arroyo have combined to tally 31 assists to just 11 turnovers. Additionally, they've shot 20-of-45 from the field, or 44.4%. In short, they're distributing the ball, not turning it over too much, and shooting well when they do indeed choose to shoot. If they can maintain that level of discipline throughout the season... wow.
It's only the preseason. It's only the preseason. It's only the preseason. It's only the preseason...
Quick box score notes: Dwight Howard was two blocks away from a triple-double; Pat Garrity lead the Magic in field goal attempts; J.J. Redick needed just 6 shots to score 19 points; The two teams combined for 44 turnovers, with Miami's Brian Chase and Devin Green and Orlando's Howard each having 4.