Wow, you guys. we kicked ass.
J.J. Redick (17 points, 5-of-8 on three-pointers) and Adonal Foyle (14 points, 8 rebounds) were impressive in their starting-lineup debuts for the Magic. Hedo Turkoglu, who shifted to the bench to make room for Redick, lead all scorers with 20 points. It was a balanced effort, though, as eight Magic players finished in double-figures.
One of those players was none other than Pat Garrity. The very same Pat Garriy who scored 71 points all of last season. G-Pat put up 12 points in 16 minutes. Go figure.
Oh, and Jameer Nelson added 12 assists, or three times as many the 4 per game he dished last year.
If this is an indication of things to come, then Stan Van Gundy is a freaking genius.
It wasn't all good news for us, though: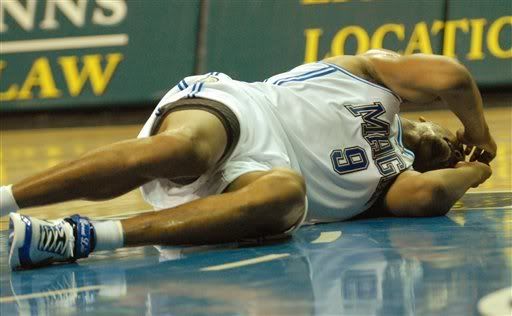 That's Rashard Lewis, who had to leave Monday's game with calf cramps, wincing after spraining his ankle  just eight minutes into tonight's game.
If you're a glass-half-full person, it's encouraging that the Magic hung 123 points on a division rival while playing without their best offensive threat. If you're a realistic person, it's discouraging that the player your favorite team spent $118 million on has suffered two separate injuries in two games and has played a total of 29 minutes.
So as much as I'd like to party and cheer and holler about tonight's big win, I can't. Not when 'Shard -- aptly named? -- is down.