That's what I'm talking about.
February 2007, it was the only time I got to see an NBA game. Brian hill was the coach and the Magic was trailing the Knicks with less than two minutes to go. And then came Jameer. He coldly swished a couple of deep jumpers and put the game away for Orlando. A close game won by the Magic with some exciting plays, just as I dreamt it.
Yes, the magic won that day, but then lost many close games because of Jameer shot selection. Don't get me wrong I love the guy, he plays with pride and he is not afraid of taking shots. But taking a contested fadeaway long shot is just not an efficient way of winning games. The long 2 is the less efficient shot in the game.
Against the clippers Jameer was having a huge game, you could see he was trying to prove he could beat CP3. The ball was moving, Dwight had 33, most of our late points were assisted. And then he entered into hero mode, attempting to do too much. In the last 3 minutes he missed 3 long shots, had 1 turnover, 1 assist and 2 FTs. A classic example of Jameer closing games was the last play of regulation: with the game tied, after the pick and roll Dwight was covered by CP3, but instead of passing, Nelson took an ill advised shot. We all knew he would. That's what he always does. That's what he did in the playoffs against the Celtics when facing elimination. He got the ball with 3 secs to go an instead of passing to someone closer to the basket he just dribbled the ball and took a contested shot from midcourt. That's what he does at the end of every quarter when the clock is running out : dribble, dribble, dribble, long shot.
And don't get me wrong, Is not that I hate Jameer, I hate the shot. That's the worst possible shot anyone can take. Be it Nelson, Kobe or Lebron. Yeah Jameer won us many games with that kind of shooting, Kobe won some too. But Kobe shoots 30% with the game on the line, while Lebron shoots 33%. They averages go down in clutch because they play hero and take bad shots*.
Lewis taking that open 3 against the Cavs was a good shot. Or Turk lob to Courtney Lee. Jordan to Paxon, Jordan to Kerr, Kobe to Fisher in the finals, that's the way you get the better chance to win a game: just pass it to the guy with the better chance of scoring. And who is they guy in Orlando? Dwight Howard of course!
We only needed one point and Howard had 33 in the game, he was dominating. Why not give him the ball? He is a bad FT shooter?? If he goes to the line 2 times and gets 2 out of 4, then it would be as any player taking two 2pt shots and scoring one. A 50% FG % rate in crunch time that would lead the league. Furthermore a nuclear scientist who happens to be a friend of mine (yeah, really!) gave me this numbers:
If Howard is shooting 59% from the FT line (his career average):
The odds he hits both FT are : 34,81,% (above Kobe shooting % in crunch time)
The odds he makes at least one FT are: 83,19%**
The odds he miss both shots are: 16,81%
If Howard is shooting 50% from the FT line:
The odds he hits both FT are : 25 %
The odds he makes at least one FT are: 75%**
The odds he miss both shots are: 25%
If Howard is shooting 45% from the FT line:
The odds he hits both FT are : 20%
The odds he makes at least one FT are: 69.5%**
The odds he miss both shots are: % 30.25%
So if the game is tied and you give the ball to Dwight, you either have his 50%+ FG shooting, or at least a 69% chance he makes one FT and win the game (plus the chance of a FG+1). Of course, you shouldn't force the ball to Dwight at all costs if there is an open player, but I do think he should still be our first scoring option***. In any case we shouldn't settle for long contested jumpers off the dribble, if Dwight is unavailable then we are looking for asisted shots; which are the most efficient way of winning games.
"I Can't wait to see "Trade Jameer" posts due to the last bit of the game..." slickw143
I don't want him traded, just taking smarter shots! :p
* Everyone's % goes down in clutch, but not as much as the one from most Allstars.
** This % is for the times he makes 1 out of 2, plus the times he makes 2 out of 2. In both cases he hits at least one shot. For example if his average is 59% the odds he makes one shot out of two are 48,38%. But that doesn't mean he will miss both shots 51,62% of the times. If he doesn't score 1 out of 2, that means he missed both (16,81%) or scored both (34,81,%). 16,81%+34,81%= 51.62%. 51.62% + 48,38%= 100%, covering all chances.
*** If you are down by 3 with less than a minute, then you don't want Dwight scoring 1 point. But if you are losing by 2 and still have two or three possessions left, then yeah, just go for it.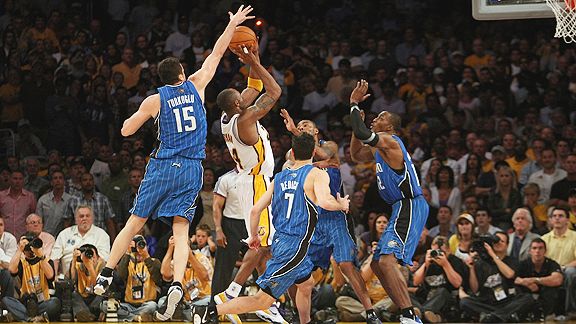 "At the end of Game 2 of the 2009 Finals, the Magic knew who to guard, and got the block."